Browsing Category "My beading projects"
Happy summer everyone in internet land. I sorted out my diy bracelets the other day and discovered I have more than I know what to do with, there's even more put away in my jewellery box. I think I need to start making necklaces and earrings instead.
There's so many beads to chose from, I came across a store called Bead Workshop that is very reasonable and the p+p is only £1.50, you can't go wrong.
I made a Superduo wrap bracelet last weekend and I love it.
I keep telling myself I'm going to update my blog more often but it aint working is it?
Anyhoo every now and then I get super creative and have a mad beading marathon. I make loads of stuff then suddenly I'll lose the urge and turn my hand to crochet. I'm currently making a large blanket to throw over our king sized bed during winter, I like making these as a square so that I can keep adding to it when I'm in the mood.
Out of all the projects I've made my favourite bracelet is the Lattice Beaded Bracelet, I used size 6/0 teal seed beads with turquoise size 6 seed beads and 4mm white pearls.
I followed another super easy to follow video by the Aleshia of beadifulnights, you should check her out if you want to learn beading.
Sooo I decided to get the beads out and have a go at a few more tutorials, I'm still a beginner trying different beads and different styles.
I'd been try and failing with the Peyote stitch but because my small beads are irregular shapes and sizes it wasn't working. I bought myself a couple of packets of  Toho beads which came in the post today so I'll be having a go at that soon.
Anyway this is a Right Angle Weave netted bracelet, I still have a problem with tension but practice makes perfect. I used this tutorial as a guide doing only 2 rows but in time I'll add more as I work on my tension.
I made this colourful bracelet using beaded ladder stitch and cube beads, I love the colours they remind me the Fruit Salad sweet that I love when I was a kid. It looks really nice on too.
Today I made a 3D Cubic right angle weave beaded cross. I came across a tutorial on Beadifulnights YouTube channel and thought I'd give it a go….I actually did it.
Being left-handed I usually find it difficult to follow a lot of tutorials but Aleshia explains it all in simple terms and her videos are really easy to follow. It's the first time I've managed to make anything that looks this complicated
If you want to have a go I'll post the link to the video below, make sure you subscribe to her.
Thought I'd share today's DIY project using 0.6 beading elastic, a hamsa connector, pearls and spacers. All were purchased from ebay and if you don't mind waiting they're usually a lot cheaper if you buy from China etc. The hamsa connectors were 2 for 99p. You cant go wrong can you?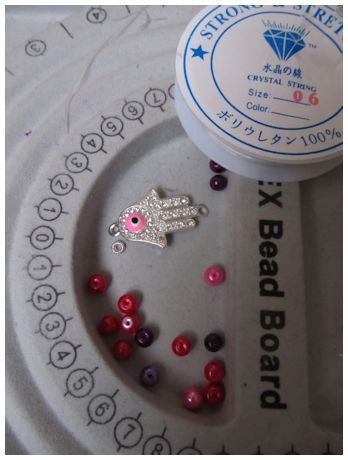 Simply cut your elastic slightly longer than your wrist, knot one end to your Hamsa connector then add a bead and a spacer. Repeat till your bracelet fits your wrist then knot, I'm not very good with tight knots so I usually add a little bit of glue to make the knots a bit more secure. And thats it, one snazzy bracelet
Sat and made for a couple of bits, I really like the way the Vintage Tree came out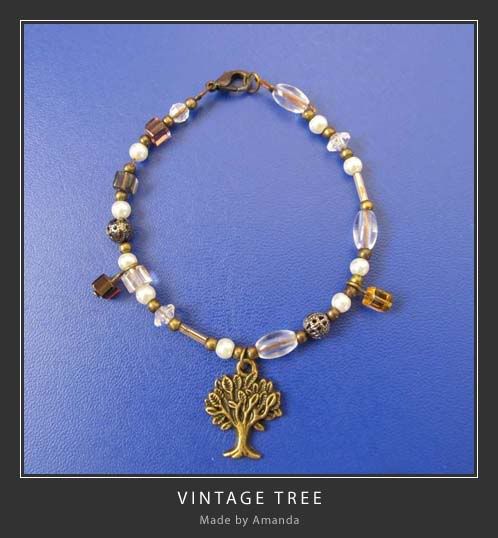 Beaded butterfly choker and a bracelet I made as couple of days ago